In the Caenorhabditis elegans research field, there are some famous non-profit scientific research platforms like CGC, Wormbase. For human genomic research, there are some open data bottons such as ClinVar, COSMIC and COSMIC. How to integrate the genetics Data from different platforms is a challenging job. ConVarT combines not only the data from above mentioned platform, but also unites the experimental data. As a result, scientist could compare Human genetic variation with model organism efficiently.
As the experimental team, SunyBiotech contributes to the establishment of the scientific research platform ConVarT on the internet (Website: http://convart.org/current_project/index.php). It helps us quickly search the homologous gene of human gene in C. elegans , Fruit fly drosophila, Zebrafish and Mouse, and simultaneously realizes fast visual search, query and download of homologous gene mutation of human diseases associated gene mutation in other species, which is the gospel of science and will benefit the whole scientific community.
What is ConVarT?
ConVarT(The conserved clinical variation visualization tool)
is an online visualization resource tool that is developed by Kaplan Laboratory Essentially, it is developed to find the mutation of conserved amino acid associated with human diseases in other species. The aim is to display the evolutionary conservation of amino acid substitutions associated with diseases and non-clinically significant amino acid substitutions from ClinVar, COSMIC and gnomAD databases , and allow easy access to collections of conserved genes and conserved variants associated with human diseases for the model organism research community.
All genes in ConVarT are made up of all types of amino acids in ClinVar(329,338 amino acid variation), COSMIC(6,842,627 amino acid variation) and gnomAD(16,179,380 amino acid variation). It also provides comparison in a series of multiple amino acid sequence of homologous proteins. The data visualization tool is freely available for the benefit of the scientific community. Figure 1 is the ConVarT workflow.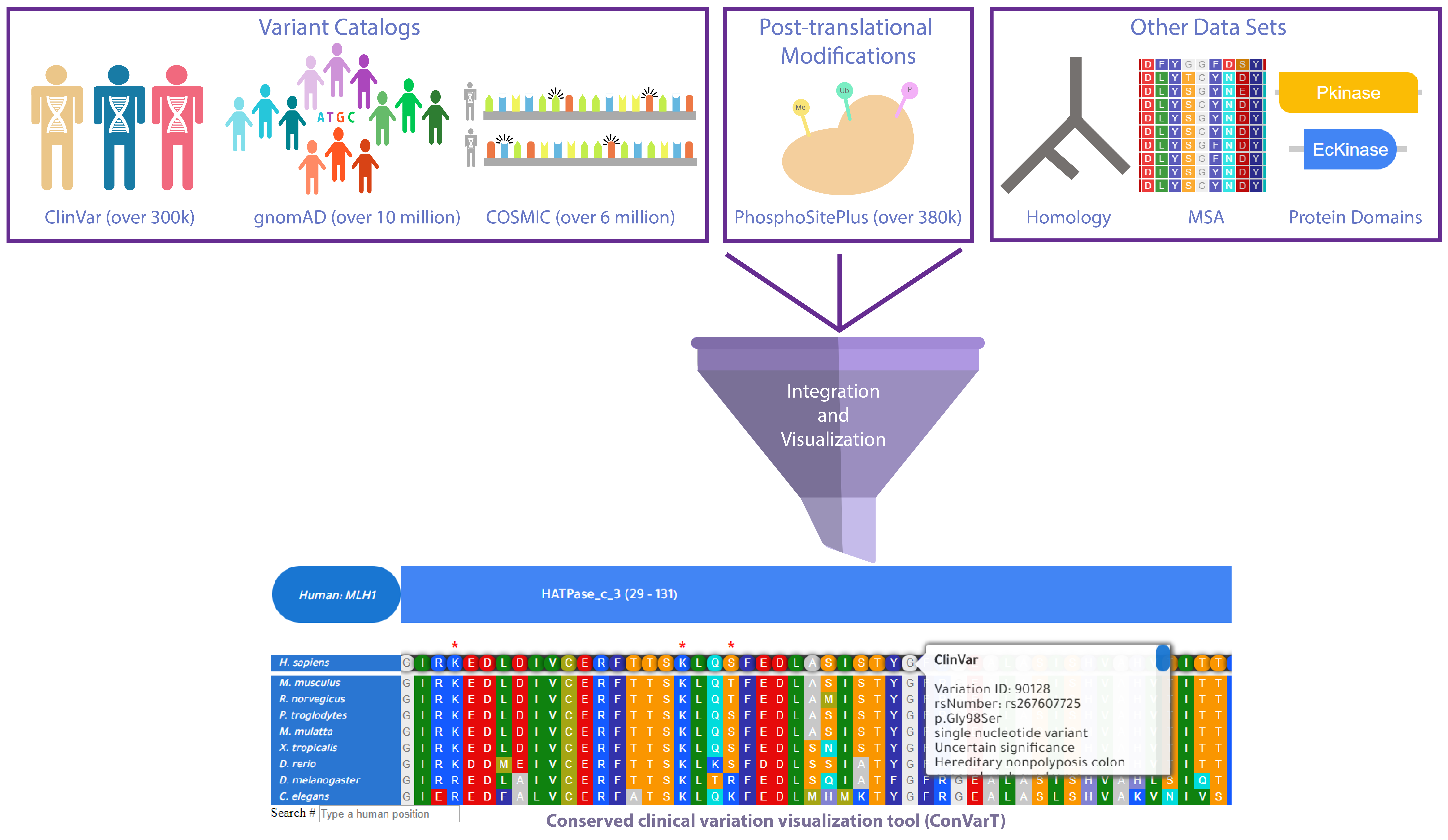 Figure1: ConVarT workflow
Advantages of ConVarT
With the in-depth study of genetics and the ever-increasing information on alleles of various variants, the exploration of biological effects of variants becomes a quite challenging task, which is a major impediment to the current development of biological science. the currently available functional inference computational tools are not sufficient to predict the impacts of missense variants, raising the issue of understanding the large scale of human genetic variations. In addition, the available databases cannot easily provide rapid visualization of human genetic variants in the genome of model organisms.
ConVarT enables researchers scientists to copy and paste their own protein sequence to view human genetic variations and PTMs in the respective amino acid positions, followed by the incorporation of Pfam protein domains, extending ConVarT's use to other model systems. In short, ConVarT provides easy access to all conserved human genetic variants and PTMs on protein-encoding regions. The database would be useful for the biomedical and model organism research communities.

Figure 2: Comparison of human protein ADSL with other model speciesComparison of homologous protein amino acid in human protein ADSL and other model species. "*"stands for disease-related amino acids.
SunyBiotech's contribution to ConVarT
SunyBiotech is a truehearted research partner of Dr. Oktay I. Kaplan Laboratory. Up to now, SunyBiotech has provided nearly 100 single C. elegans gene editing services for Kaplan Laboratory. In order to facilitate the ConVarT project, SunyBiotech has made five C. elegans mutants to help them perform phenotypic experiments on amino acid mutation related to human diseases, and to verify the results of their databases with scientific and rigorous experimental data. These five nematodes are: PHX1298,PHX1301,PHX1302,PHX1310,PHX1325. The high efficiency and quality C. elegans editing technology of SunyBiotech is also highly recognized by Kaplan Laboratory.
Science without borders. Within 3 years, SunyBiotech has partnered with more than 200 influential universities and laboratories around the world, which has achieved fruitful scientific research results.
In the future, SunyBiotech will join hands with more scientists from all over the world to explore more, wider and deeper unknown scientific fields in C. elegans!